Welcome your guests in grand style! Your overnight guests will feel warmly welcome in a guest room suite with calming wood furniture.
Magnussen River Ridge Wood Island Storage Bed in Natural
Starting with Magnussen's River Ridge bed, this is a gorgeous rustic feel that can easily be brought into modern times with a few simple accent pieces of furniture. This bed's horizontal slat headboard has a gentle curve, while the storage drawers create space for extra bedding, pillows, or clothing.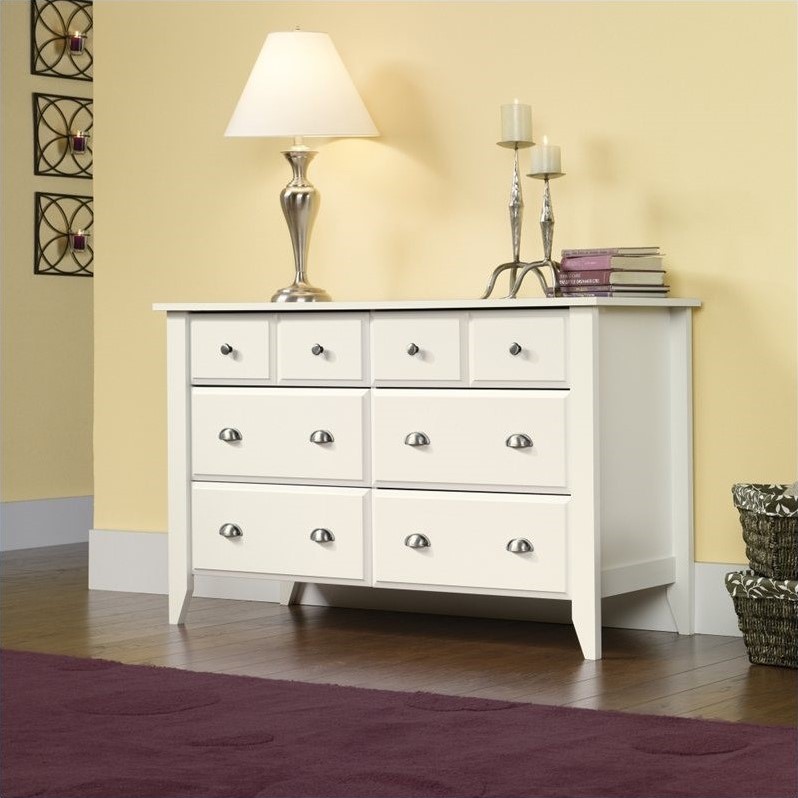 Sauder Shoal Creek Dresser in Soft White Finish
This soft white dresser from Sauder is a great complement to the simplicity of the wood bed. It brings a more contemporary feel to an otherwise rustic lodge style.
Powell Furniture French Calligraphy Wing Chair
A single Powell Furniture wing chair is great way to add a little soul to the room. The French calligraphy brings the traveller's mind to places just visited, or sets the stage for future journeys. The neutral tones in the chair provide an array of accent color options.
A neutral palette is the obvious choice for the rest of the decor. Soft grays with beach sand undertones will really make the bed stand out in the room. Accent with deep plum, a nice dark teal, or even a splash of sunflower yellow. Use a splash of all three colors, or pair the deep tones with the yellow for a nice hint of summer sun. A simple vase of fresh flowers is a great way to not only lighten the room, but also to add a hint of calming ambiance through nature's version of air freshening.