When the Amish first came to the United States, they settled in Pennsylvania. Today Amish settlements can be found in all across the US. However, no matter where the Amish settled, the location of their communities had one thing in common; they were surrounded by forests, a readily available source for the furniture the Amish have become renowned for. Traditionally, Amish furniture was fashioned from white or red oak that was plain sawn or quarter sawn. But with the establishment of communities in other regions of the country, woods including cherry, maple, hickory and walnut are also used.
Due to their beliefs, although some methods involving modern technology are allowed, Amish bedroom furniture is mostly handcrafted, using traditional woodworking techniques such as chiseled mortises, tongue and groove joints and dovetail joinery. Great attention is paid to utilizing the grain of each piece of wood to its best advantage. Lines are simple, with a refined rustic feel. For this reason, Amish interior decorating is particularly effective in a bedroom where the whole point of the design plan is to create a tranquil atmosphere.
You don't have to go searching for genuine Amish furniture to attain the desired look. It's easy to create an Amish décor by choosing solid furnishings with clean lines, square or "boxy" profiles and a handcrafted appearance. Amish furniture typically incorporates several styles including Mission and Shaker, styles that again are known for simple lines, traditional woodworking techniques and being well-made and durable.
Don't fall for the decorating myth that Amish interior decorating lacks color. Not so. Take inspiration from an Amish quilt and use heritage colors like softer blues and grays, gentle creams, sage greens and earth tones. Heritage colors are ones that are technically made from natural pigments. They are generally more expensive and can be harder to find. However many paint manufacturers, like Sherwin Williams, offer shades that closely mimic heritage ones.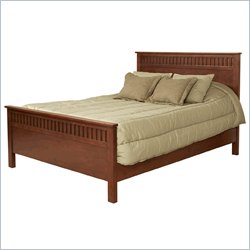 Draw the eye into the center of the room with the Linon Mission Bay Queen Bed. Decorative detail is uncomplicated, but the closed slat design of the headboard and footboard gives the bed a handcrafted feel. Its profile, with the emphasis on simplicity, is actually soothing.
Because Amish furniture is crafted from timber that was milled mostly without the benefit of modern technology, it tends to be solid and oversized. The antiqued drawer pulls and handles of the Tradewins Mission 12 Drawer Dresser have a vintage design.
Especially when designing an American country, mission, Shaker or Amish style bedroom, an armoire, like the Brook Hollow TV Armoire in Dark Oak instantly lends the décor a vintage or heirloom look.
The focus of Amish interior decorating is on function. When accessorizing your Amish style bedroom, don't forget items like baskets, pictures depicting simple country scenes and table lamps and bedside lamps with rustic or antiqued metalwork. Since quilts are an integral part of Amish culture, add one to your bed and buy a blanket chest to store it in or a quilt rack to display it in style.
Next week in part two of this Amish Interior Decorating mini series, we'll explore ways to give a living room an Amish style makeover.