Like many interior design styles, British Colonial style has its regional distinctions. Largely due to the fact that it evolved over a period of roughly a century and touches most continents, this style, while firmly rooted in traditional design principles and certain, distinct traditions, has many faces. The look we often readily associate with British Colonial is the eclectic appearance of bedroom furniture that arose from the active colonization period of the some of the islands in the Caribbean during Queen Victoria's reign. But we mustn't underestimate the influences other exotic locales like India, China and East Africa brought to bear on British Colonial style. No matter; whatever regional emphasis you choose, British Colonial style is ideal for the bedroom because of its lavish, exotic nature.
Color and Texture
In the Old Country where Victorian style held sway, colors were heavy and rich. But once in the Caribbean or in the Orient, walls were typically painted lighter colors. Softly hued walls made the perfect backdrop for the richly embroidered fabrics of India or China; the floral patterns of the Caribbean islands or exotic organic elements like wicker, rattan, antlers, zebra prints, coral and shell. When painting a British Colonial style bedroom, select gentle shades of the sea, the forest, the sun and the desert.
British Colonial Style Bedroom Furniture
The occasional bedroom furniture piece made of metal or one that has metalwork accents is perfectly acceptable. However to get the look, British Colonial style furniture, especially the bed, is made of wood. Since they were so far from home, local woods were used instead. British Colonial bedroom furniture is typically made of tropical woods such as mahogany and teak with dark, rich finishes. Because the expatriates were often moved from posting to posting, furniture pieces were smaller in scale and tended to be lighter in weight than their Victorian counterparts. British Colonial style furniture might have been scaled down, but decorative detail was still lush and ornate, while profiles consisted of sweeping and curvy lines. Case goods like armoires, dressers and nightstands often included cane insets, louvered doors or panels or bamboo accents.
Accessorizing British Colonial Style
Use botanical prints for fabrics for bed benches, curtains, bedding sets and upholstered occasional chairs. Accessories for a British Colonial style bedroom are sophisticated and can incorporate travel-related items such as trunks, suitcases or sepia photographs in burnished metal or cast iron frames. You can also incorporate objets de arte that reflect the flavor and customs of the region like drums, pottery pieces or brass hurricane lamps. Table lamps often have tropical motifs like pineapples, palm leaves and sea shells.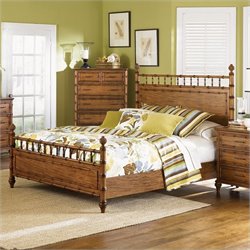 A British Colonial style bedroom is the ultimate in luxury, with its hint of adventure and the trace of tropical sea breezes. Come back next Friday for British Colonial Style part 2.