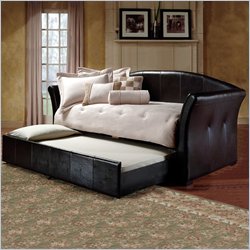 Once the number one decorating choice for a girl's bedroom or a guest room, daybeds have "grown-up." With new styles, improved materials and a variety of non-gender specific designs, today the daybed has become a savvy way to make the most of a room's floor and storage space, for everyone, not just children. There is another reason for the resurging popularity of the daybed. Whether it's used as the primary sleeping area or as an additional bed for an overnight guest, daybeds are ideal for smaller living spaces like studio apartments, condominiums, attic rooms or even awkwardly shaped rooms.
Because daybeds have the look of a classic sofa, no matter whether the style is traditional or contemporary or somewhere in between, they tend to make the room warm and inviting, much as a sofa makes a living room comfortable and welcoming. Since furnishings such as a sofa, loveseat or daybed tend to a focal point in the room, select a style of daybed that will match or complement the room's current décor.
The daybed is a viable solution when prepping your home for visitors. Essentially a twin bed, a standard daybed resembles a couch with a back and two arms. Many types of daybeds have features like under-bed storage drawers or a trundle unit, which makes them versatile and ultra-functional. A trundle unit, either the pull-out or pop-up kind, allows you to sleep one other person in addition to the main sleeping area. The pop-up trundle bed is collapsible, has casters and can be elevated to the same height as the mattress on the daybed. If the two are pushed together and made up as one bed, it provides the same size sleeping area as a standard king size mattress.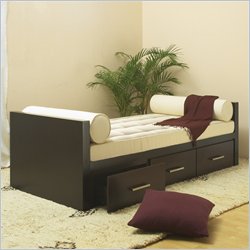 Daybeds make great additions to your home because they add versatility and functionality to a second bedroom, a den, a dual purpose room or family room. Because they are designed for a twin size mattress and don't need a box spring, daybeds can be an economical way to furnish several room at once. During the day, daybeds can be used as a sofa.  Depending on the type daybed bedding chosen, a daybed can look quite decorative or chic and tailored. Wood daybeds, especially ones that have a more traditional design, can give a room a touch of charm or sophistication.