Whether it's on a patio of your favorite restaurant, a little outdoor bistro you discovered by accident on vacation in Europe or a local coffee shop where most of the patrons would never consider sitting inside, there is something very appealing about dining outdoors. There is nothing quite like it: charming metal dining tables and chairs; planters, foliage or hanging baskets; and other natural, decorative accents typically associated with the outdoors like stone, wicker and shells, combine to create a unique dining experience. What if you could have a dining room that leant you the same festive feeling everyday? Using a few alfresco style design ideas for inspiration, you can have a dining room that offers you the spirit of dining outdoors year-round.
Theme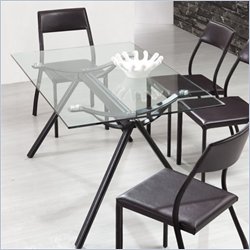 Every outdoor restaurant has a theme usually centered around the type of food it specializes in, a local landmark or the view, especially if it is located by the ocean or some other natural attraction. The type and style of dining furniture you select will ultimately be tied into theme you have chosen. An outdoor theme like a Parisian café or a Venice bistro will require a different style of dining table than a theme like Moroccan or Indian bazaar. Modern theme requires something sleek and sophisticated while a wrought iron table and chairs that include elaborate scrolls and a leaf motif would be perfect for a Victorian theme.
Dining Furniture
Depending on your theme, you don't have to stick to metal or metal and glass dining furniture. Not only is wood a natural element, it is of course, a popular construction material for outdoor dining tables and chairs. Especially if you choose a dining table set that incorporates cane, rattan, stone or shells, you will easily create the feeling of an outdoor dining area.
You can bring the outdoor atmosphere of alfresco dining indoors in other subtle, sophisticated ways. Choose floral patterns for upholstered dining chairs, curtains and the area rug. For dining accent furniture ideas, add stone or copper urns that might be found on outdoor patio or dining area, an indoor fountain or park-style or stone bench in lieu of two or more standard dining room chairs.
When choosing a server or buffet, select a rustic looking sideboard that has an antiqued finish. Or how about a bakers rack for adding Old World charm?
Lighting
Outdoor restaurants and dining areas have a certain ambiance that can be partly attributed to how the space is lit. As when lighting any room of your home, you should find the right balance function and creating the right mood (not too bright; not too dark). But when bringing outdoor dining indoors, you'll also want to capture the feeling of outdoor lighting fixtures. Pick something lamp-like or with white or colored glass globes that look like they can withstand exposure to the elements; the type of lighting that creates ambiance in an outdoor restaurant. Keep in mind, that any lighting fixture you select should match the theme and style of your furniture.
A dining room designed to evoke the pleasures of dining alfresco is the perfect excuse for relaxing with family or lingering over a meal with friends.