Red is a bold color that is rich and warm. Decorating with red takes a sure hand and a good eye. When using red as part of an interior decorating design, you will want it to be balanced – not too much and not too little. If there is too much red in the room, either on the walls or on the furniture or accessories, it can make the décor feel that it is shouting" at you, while having not enough red in the room or not incorporating it effectively will make it appear overpowered by the other elements in the room. When it works, red really makes a room stand out.
When a room is predominately neutral, with earth toned walls and furnishings, choosing one or two pieces of furniture that are red will automatically create a focal point in the room. Made of leather, the Kathy Ireland Home by Omnia Furniture Leather Lyon Club Three Seat Sofa and the Kathy Ireland Home by Omnia Furniture Leather Lyon Club Chair placed together in a living room or family room will definitely create a welcoming ambiance. The red tone of the sofa and club chair is deeper or darker in tone, which while drawing the eye into the room (focal point) they also are richer rather than bolder.
When using red as a wall color (from Benjamin Moore), you have two basic options: the first is to paint the entire room red; the second is to choose one wall and use red on that wall as an accent color. If painting the whole room red, plan on some "white space"; for example, paint the ceiling, baseboards, doors and/or windows white. Another variation on this theme would be to select a brighter red tone for all of the walls and pair it with white wainscoting or beadboard. This would be a great choice for a country, Mission or Shaker style kitchen or dining room.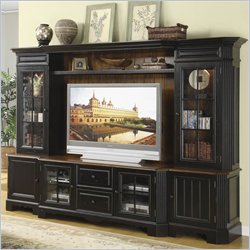 If the second option appeals to you, before choosing red as an accent color, decide which wall would be best and what you would like to feature in that part of the room. Don't forget that whatever you place near or against the red accent wall will be "spotlighted." This may be the perfect opportunity to add an electric fireplace like the Electrolog by Dimplex Mozart Electric Fireplace in Gloss Black or the Riverside Furniture Delcastle 63 Inch TV Entertainment Wall System.
Instead of showcasing a fireplace or a specific piece of furniture, another alternative to the accent wall option is to use the space to display art work, a painting or a distinctive mirror like the American Drew Bob Mackie Signature Accent Round Mirror. This idea would work well in a dining room as wall as a den, family room, living room or hallway.
When you don't' want to repaint the room, you can still decorate with red by bringing the color into the room in a number of ways, specifically through judicious accessorizing. For it to have impact, choose a minimum of three items, such as red accent pillows, a red ottoman and an area rug like the L.A. Rugs Euphoria Style Crimson Frame Rug.