While modern style can be somewhat easily defined as form is function, since its first appearance in the second half of the twentieth century, it has evolved to include a range of degrees if you will, from minimalist to something that closely resembles contemporary or transitional styles. In other words, when choosing modern style for your home, you can decide how little or much. Some of us find true modernism too stark, while for others, it is that very starkness that is so appealing – the clean, sharp lines and angular profiles that create a spare, uncluttered environment which sets the stage for a busy, modern lifestyle.
When decorating a living room in modern style, furniture defines interior space by using geometric form and neutral palettes. A sofa like the Wholesale Interiors Baxton Studio White Convertible Sofa is very minimalist, every line is straight and the profile is simple and spare.
If you prefer something less leather-look, go for sofa upholstered in neutral fabric, like the Innovation USA ILS04 Sofa with Arms.
Metal, glass and plastics are common construction materials. The Innovation USA 7″ Combination Coffee Table with Chrome Legs is definitely modern, with its metal tabletop, high gloss finish and polished chrome legs.
Wood in lighter finishes or that has been bleached or molded, is another popular construction material for modern living room furniture. The OFFI Scando Coffee Table in Walnut perfectly demonstrates form is function; it's asymmetrical profile serves as a make magazine holder.
No modern living room can be without a television. The crisp, angled lines  Furnitech Classic Modern 75 Inch Wood Plasma/LCD TV Stand possesses crisp lines
Minimalist Dining Room
With modern minimalist dining furniture, there is absolutely no decoration such as molding, inlays or other decorative accents. Form speaks for itself. There should be no piece of living room furniture that does not fill a specific function.
Because there are no decorative accents, the eye is drawn to the furniture piece itself, rather than just certain aspects of it. In the Modloft Spring Dining Table, visual interest is created by the tabletop made of a combination of frosted and plain glass.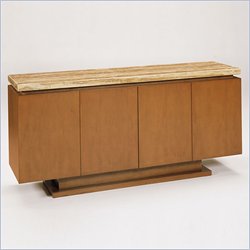 Wood cabinets are made of mahogany or other types of grained woods. Finishes can be matte, highly lacquered or anything in between, but never distressed. Doors, as in the Armen Living Travertine Buffet Cabinet are not framed and contrasting materials, such as the wood and stone, are often used to create texture or focal points.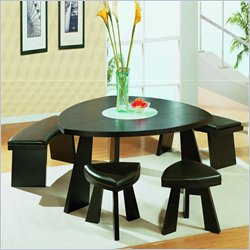 The use of pure geometric shape makes the Global Furniture USA Triangular 5 Piece Dining Set in Dark Brown unique; classically clean lines make it minimalist.