In Japanese interior design less is definitely more, but even more so in the living room. Space is very much a part of the overall plan. Living room furniture is arranged from an "inside out" principle, meaning that furnishings are typically placed in the center of the room and then balanced with open space. This lets each piece "breathe," creating a Zen environment that is ideal for down-time, kicking back after a long week at work or a stylish and sophisticated place to entertain friends.
The furniture in a Japanese style living room should be chosen carefully – each piece in the room should not only serve a definite purpose, it also should work in harmony with the other furnishings in the room. Lines and profiles are soothing, unassuming and restful. Horizontal lines in Japanese furniture design are particularly important because they represent man's relation to the earth. This is why living furniture sits low to the ground. Furniture and accessories like lamps or rugs should be made of or incorporate natural materials like wood, bamboo, wool and rice paper.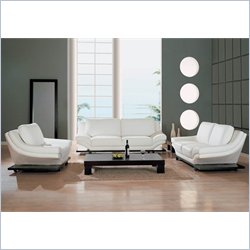 The Global Furniture USA 757 Series 3 Piece Sofa Set integrates the essential elements of Japanese design. The sofa, loveseat and arm chair are all low profile. Lines, while gently curved to emphasize shape and create visual interest, are simple and calming. The base and legs are made of wood.
When designing a Japanese style living room, accessorize very sparingly. Color palettes for walls, fabrics and curtains will be neutrals or earth tones. While every piece of furniture in a Japanese style living room is chosen for its functionality, it should also be esthetically pleasing as well. Use a focal point such as an entertainment center, bookcase
or armoire to anchor the room. Create balance and harmony by arranging the furniture in the space so that each elements "plays nice" with the other décor elements in the room. Incorporate natural elements into your Japanese interior design with a table lamp that has a rice paper shade; a sisal area rug or bamboo window treatments. Traditional Japanese design calls for bare walls; if you wish to hang framed pictures, prints or photographs, limit the number to one or two larger sized ones or several sets of a group made up of no more than four small pictures in each group. The result will be a living space that is truly comfortable while being tranquil and serene.