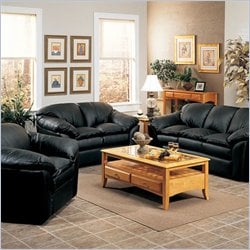 A blend of rustic, country and cottage styles, lodge style captures the spirit of après ski activities in a mountain chalet; the feeling of returning to a log cabin after a tramp through the woods on snowshoes; or the joie de vivre of a group gathered around a roaring fire in a hunting lodge following a vigorous day on the trail. Lodge style is ideal for decorating a living room because it possesses the casual elegance one might find in a lake resort, a cabin in the woods or mountain getaway.
Wood is the star lodge style interior design. Wood paneling, in light or dark finishes is a common choice for the walls. Furniture is typically made of regional woods. While it still has elements of more substantial, rustic looking furniture, lodge style furniture is more refined in appearance. Whereas a rustic chair might have an "unfinished" appearance or a distressed finish, a lodge club chair would most likely be upholstered in muted plaids or leather and be overstuffed.
If wood paneling isn't an option, you can still get the cozy intimate feel of a mountain chalet by painting the room warm earth tones, forest greens and rich berry and fall fruit colors like raspberry, blueberry, plum and pomegranate. To add a wood element to your walls, use molding, beadboard or a chair rail. Floors would be exposed wood planks or hardwood flooring with natural finishes. Stone floors topped with thick faux animal rugs are also appropriate. Multi-colored, braided rugs made of wool or other natural fibers would be another option.
Window treatments tend to be weightier, of thicker materials designed to keep out the chill. Both lodge furniture and lodge style curtains use wool, cotton and man-made fabrics imprinted with rural or outdoor themes. Plaids in warmer or muted shades are also popular choices for drapes and upholstery.
Lodge style furnishings are oversized, roomy and built for comfort. In addition to wood, lodge furniture construction materials include leather, indigenous stone (found locally) and wrought iron. It's about bringing the outdoors inside while keeping warm and toasty. Accent pillows are a must, made of nubby fabrics, soft plaids, or even patchwork, as are throws to drape over an ottoman, the arm of an oversized recliner or the end of a sofa.
Accessorizing lodge style involves anything to do with the outdoors, such as bear pelts for floor coverings or wall hangings and antler lamps or chandeliers. Walls and shelves can be decorated with found objects, well-worn leather-bound books, old snow shoes and oil lanterns.
A roaring fire is almost imperative for a lodge style room, but an electric fireplace, especially since it is a great secondary source of heat in a home, is an ideal alternative. Lodge décor is all about casual comfort while emphasizing the great outdoors while celebrating the wilderness and out-of-doors activities such as hiking, hunting and fishing.