Choosing the right accent furniture pieces for a living room adds beauty, functionality and style to your home. While you don't want them to stick out (in a "bad" way), accent furniture provides those finishing touches to the décor that helps create an inviting atmosphere.  Accessorizing a living room with a timeless piece of accent furniture, lamp or decorative item reflects your personal tastes, gives the room a personality that is unique to you.
An accent chair is an eclectic mix of function and aesthetics. By including one in your living room, particularly when placed by a fireplace or paired with an accent table, the accent chair becomes a focal point in the room. The style of the accent chair you choose for the living room should complement the rest of your living room furniture, while possessing distinct characteristics like the timeless hourglass shape of the Avenue Six Curves Hourglass Chair.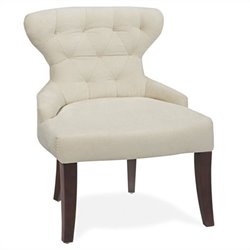 Accent tables are intended for a specific or decorative use. They are great places for a lamp, a vase of flowers or a decorative item such as a clock or china ornament. An accent table can be positioned in different parts or the living room like behind the sofa, next to a chair or, like the Butler Specialty Heritage Square Glass Top Clock Cocktail Table, in front of the sofa.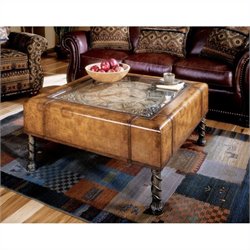 Another great piece of accent furniture for you to consider adding to your living room is the grandfather clock/curio cabinet. The ultimate living room accent furniture piece when it comes to that perfect combination of functionality and aesthetics, the Ridgeway Timeless Accents Clarksburg Curio Grandfather Clock provides sensible storage that is decidedly decorative.
Accent furniture pieces like an accent chair with a unique shape or a curio grandfather clock cabinet can give your living room a timeless style that reflects your tastes and personality.