A popular interior design trend for decorating teenagers' bedrooms is to put everything on wheels, giving them the freedom to change the furniture around as needs and moods dictate. But why should teens get all the fun? Yes, things like kitchen island carts, tea carts, some types of TV stands, computer desks, sofas and even armchairs have casters to make moving them easier. But what if the same principle was applied to other furnishings like a dining table, dining chairs or a coffee table? Putting wheels on the most often-used furniture pieces allows the rooms of your home to be multi-functional, making living in them and entertaining in them easier.
The Ultimate Accents Tier Table is so multipurpose it can be anything you want it to be. It can be used as an end table or a side table. The galley rail on each shelf makes this table ideal for serving or placing drinks and appetizers when entertaining.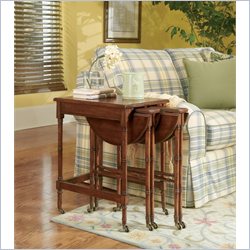 Nesting tables are ideal space-savers for smaller-sized rooms since they can be used as a single table with the others stored underneath. They can also be separated and used individually where needed. Putting a set of nesting tables on wheels makes them even more versatile.
If you constantly have to shift the coffee table to avoid bumping your knees on its edge whenever you get up from the sofa, it might not be such a bad idea to have one that you can move easily. The Jofran 378 Series Cocktail Table is ideal for a contemporary style living room while the flowing lines and detailed decoration of the Magnussen Ferndale Tables Round Cocktail Table is distinctly traditional in style.
Wheelies in the Dining Room


Particularly when dealing with smaller spaces, a dining table with casters can be very helpful during holiday celebrations when trying to fit everyone around the dinner table. It also can be handy for other activities such as moving it into the family room as an extra table for poker night.
Dining chairs with casters make them easy and convenient to move them from one place to another, allowing you to increase the seating area of a particular room. Casters also make the chair easier to use for multiple purposes, such as a games chair or desk chair for a computer work station in a hallway niche or a part of the kitchen. If your dining room furniture is traditional, choose a dining chair like the Powell Hills of Provence Arm Chair with Casters. But if your style is transitional, the Berkline Family Dining Welcome Home Salem Caster Dining Chair will better suit your décor. For a contemporary look, choose a dining chair that has simple lines with a classic, sophisticated appearance like the Pastel Furniture Mandalay Caster Arm Chair.