Where is Juliet standing when she's talking to her Romeo? On a balcony, of course! In fact, the narrow balconies used to stop you from falling out of the glazed doors popular in many European countries are referred to as Juliet balconies. Your balcony may not be that narrow, but if you're wondering if there is anything else you can do except stare at the narrow strip of concrete in the hope that it will somehow give you more space to work with, there are many ways for you to create a beautiful and functional place for you and your family and friends to enjoy (although maybe not all at the same time).
You may think it's too small to do something with, but it isn't. Anything that can add to the esthetics of your living space contributes to your overall well-being, whether you're conscious of it or not. Even if the balcony is so narrow that you only have room for two or three earthen pots and a couple of planters, the view will be greatly improved when you look out the window. Whether there is room to spare or there is not, use the following three well-known principles of interior design to create an outdoor space that will help you enjoy summer that much more.
Function – What function or role will the balcony play in your life? If it is to relax and watch the world go by, you will need some kind of seating. Will you also need some type of shade? If you intend on entertaining friends you will definitely want to add a table. Or if the balcony is more Juliet than spacious, a set of outdoor nesting tables would be the ideal solution. But if you want your balcony as place to grow flowers and herbs, or even vegetables, then you will require more planters and plant stands than you will outdoor furniture pieces.
Mood – Creating a mood for your balcony might be as easy as adding soft outdoor lighting like a lantern or candle holders specifically designed for outdoor use. Wind chimes are another great way to give your balcony ambiance, and of course, so is a fountain.
Harmony – Here harmony refers to how all of the other design elements on your balcony work together.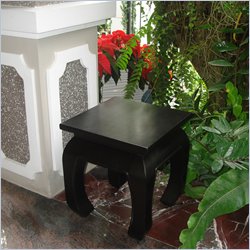 Dress the space you have. Whether it's long or short, a narrow balcony realistically limits your options, but it doesn't eliminate them entirely. A grouping of three differently sized planters creates a focal point. A small fountain or water feature will accomplish the same thing while creating a sense of tranquility even in the busiest of urban environments. Do you look at your balcony and bemoan the fact that you can't sit outside to enjoy the scenery? You might not have room for a standard size patio chair but how about a patio cube or a compact yet stylish stool like the Vifah Graden Black Hardwood Seat Stool?
Even when the balcony is roomy enough for a bistro table and chairs, you might opt for a cleaner, spare look that has an ultra modern vibe. On the other hand, you might be the type of person that enjoys overflowing planters on fire with riotous color. The choice is yours. The important thing to keep in mind when decorating a balcony is to make it functional, practical and appealing to you.