The first thing you notice when entering a five star hotel room is how relaxing it is. That's because it is a well-laid out, multipurpose space designed to appeal to all of your senses. It's not just the furnishings in the room. No matter what the furniture style – minimalist, contemporary or traditional – the room is layered with textures intended to make you feel pampered and stress-free. The focus of a resort hotel suite is on luxury. By following a few simple design rules, you can get the same look and feel for your own bedroom to create a space where you will be truly rested and refreshed.
Color Me Neutral
The color of the walls sets the mood. To achieve a first-class hotel room atmosphere choose colors (shown here from Behr) that are neutral and warm-toned. You want the color to "embrace" you gently; this will evoke an atmosphere of tranquility, comfort and serenity. You also want the wall color to evoke an air of sophistication, just like in a five star hotel room. Painting the ceiling the same color as the bedroom will "lower" the ceiling, giving the room a cocoon effect. If you might find this too cozy (translation a little claustrophobic), choose a standard neutral color such as pure white, off-white or a soft shade of gray.
Keep it Simple
While a high-end hotel room is luxurious and sophisticated, it is also uncluttered. Furniture pieces are chosen equally with both function and comfort in mind. The Modloft Monroe Modern Platform 4 Piece Bedroom Set supplies the basics – two nightstands, a platform bed and a dresser. The lines are clean and contemporary and lend the room an openness that is chic yet fresh. Particularly when decorating a small or low-ceilinged bedroom, the platform bed is an ideal choice because it stands lower to the floor, revealing more wall space while making the room appear larger.
To create the look of a tropical resort, select the beautifully detailed Curt Christian by Martin Havana Panel Bed 3 Piece Bedroom Set. While the bed is more traditional in style with more decorative detail, lines and profiles are still simple, enhancing the rich and warm wood finish.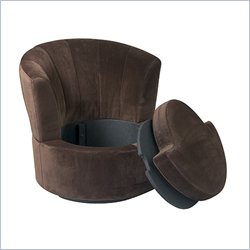 High-end hotel rooms offer you several places to sit for relaxing; for putting on shoes; for sitting comfortably in front of the mirror to brush your hair or put on makeup. Add an accent chair or a club chair like the Avenue Six Curves Barrel Chair. Not only does it have a sophisticated appearance, it also has a concealed storage area beneath removable seat.
Not too Dark, Not too Bright
Lighting is another important ambience-setter in a bedroom. Five star hotel rooms typically incorporate the three main types of lighting fixtures: general lighting, usually an overhead fixture of some kind; task lighting such as a bedside lamp or a floor lamp by the armchair for reading; and accent lighting that focuses your attention on a particular feature of the room like a painting, sculpture or recessed niche.
Dressed to Impress
While the walls should be cheerful yet neutral, the bedding should be vibrant and inviting. The bed is the focal point of any bedroom. To treat yourself to a five star hotel experience, you will want to select bedding that will inspire you to sink down into it as soon as you enter the room. Start with the Tommy Bahama Marsh Harbor Comforter Set comprised of restful stripes in warm colors.
Select a high count sheet set like the Gotcha Covered 618 Count Combed Cotton Sateen Sheet Set in Sand to create the sense of sleeping in a bed in a luxury resort hotel.
In addition to pillows for sleeping, layer the bed with decorative pillows and cushions from the Highland Feather Italian Style Collection. But don't be fooled by the word "decorative:" accent pillows are ideal for making reading, eating breakfast in bed or sipping a cup of morning coffee easier and much more comfortable.
You can pamper and indulge yourself on a daily basis without leaving your own home by transforming your bedroom into a chic high-end hotel room. Concentrate on relaxation, luxury and mood. Bring scent (but keep it subtle; you don't want it overpowering) into the bedroom in the form of candles, potpourri and aromatherapy oils. Textiles should be soft and textured like sateen finish cotton sheets; shag or faux animal skin rugs; silk curtains; and velvets, chocolate microfibers or leather upholstery for chairs and bed benches.
Having all of the elements work together in the room is key. When accessorizing, take your cue from a luxury hotel. Select a few choice ornamental pieces for display but plan on keeping surfaces relatively free of clutter. Don't overdo the walls. Choose a few art prints, a set of black or white framed photographs as wall decoration. Place an oversized framed mirror on an accent wall to create a secondary focal point (the bed will be the main one) in your five-star bedroom.