Transforming your home into your own stylish castle is not difficult. Start with traditional style furniture that was popular during the reign of a certain king or queen like Queen Anne, Victorian or Louis Philippe; add a palette of royal colors that include, of course, rich reds, purples and golds; and accessorize royally with heavy silver candles and brass table lamp bases, pictures in oversized gold gilt or elaborately carved wood frames and objets d'art. Today in part three of our series, we'll discuss how to create a dining room that makes a royal statement.
When choosing a color palette, think of the Victorian era, palaces and formal, courtly spaces. Colors (shown here from Behr) are jewel-toned, with rich, deep tints. Mix paint with wallpaper. There are three basic options when considering using both paint and wallpaper: paper one wall and paint the rest; paper half the walls, paint the other half and separate the two with decorative molding like a chair rail; or paint the walls and apply a border around the room. When making a royal statement in your dining room, select wallpaper with paisley, diamond or damask patterns.
Queen Anne
Queen Anne style furniture actually became more common in the period following this monarch's death in 1714 rather than during her reign. In British Colonies, particularly the American colonies, Queen Anne gained popularity throughout the Colonial period, roughly from the 1720s to the 1750s. The Trump Home Westchester Irvington 9 Piece Rectangular Dining Table Set in Medium Brown definitely displays Queen Anne sensibilities, particularly the dining chairs, with their yoke-shaped top rails and urn-shaped back splats.
Display your formal dinner set and tableware in true royal style with the American Drew Cherry Grove Breakfront China Cabinet. While broken pediments weren't used by Queen Anne style cabinetmakers, they did make an appearance in later revival periods and in reproductions.
Victorian
Victorian style furniture is very impressive, typically made of mahogany, walnut and teak with rich, luxurious finishes, while not highly polished, do possess a high sheen or "glow." Dining room furniture pieces are highly decorative, with elaborate detail such as lavish, intricate wood carvings or very stylized metalwork scrolls. The use of botanical motifs, like the acanthus leaf, was especially popular during Victorian times.
Victorian dining tables, as demonstrated by the beautiful Tommy Bahama Home Kingstown Bonaire Round Dining Table were typically round with a pedestal base. Again, in keeping with Victorian design principals, the larger and more elaborately carved the better.
And the same naturally applies to the accompanying dinging chairs. Note that the Kathy Ireland by Standard Contemporary Nottingham Epic Chippendale Side Chair sports an acanthus leaf motif.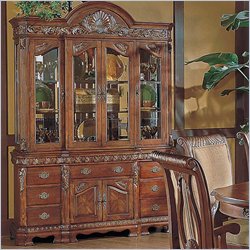 Since the Victorians loved to entertain – the length of an average Victorian dinner was about three hours – the sideboard or buffet played an important role in Victorian homes. The Steve Silver Harmony Buffet & Hutch asl includes the acanthus leaf motif.
Louis Philippe
Emerging from the French Restoration period, Louis Philippe furniture, like the Tradewins French Classics Dining Arm Chair has less ornamentation and lines are smoother and more rounded.
As during the Restoration Period, Louis Philippe dining room furniture was made of dark woods like mahogany, walnut and palissander. Although today, other woods like cherry used in the construction of the Tradewins French Classics Dining Table, are used as well.
If a traditional style of furniture could be "contemporary" this style is it, as evidenced by the Tradewins French Classics Dining Buffet with Hutch. Because it displays standard Louis Philippe characteristics like a simple pedestal base with bracket feet and the lack of decorative motifs, this china cabinet definitely could be mistaken for contemporary.
Come back for a visit next Friday when I'll be starting a new series about the different faces of modern style.